HIP hip
March 2010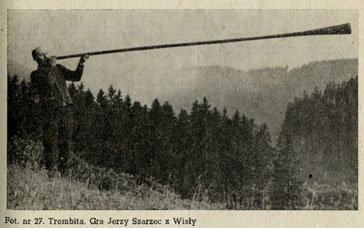 Welcome! We encourage our audience to listen with an open mind. Easily done this season, with premieres - music you have definitely never heard before - alongside works that you may already know but may sound quite "new". You can read all about why we do what we do on this website. Even by our standards, March's concerts had some novel sounds...
Many mysteries surround JS Bach's Trauermotet, O Jesu Christ, meins Lebens Licht, (BWV 118). To date, only composition scores of both versions have been found - the first version with a watermark from 1736/37; the second, circa 1740. Both versions specify lituus I & lituus II.
The parts for litui in BWV 118 are playable on a "natural" instrument but unique in character for "brass" parts: Instead of the usual short, dramatic bursts, there are long, lyrical phrases that, when played on horns or trumpets, don't blend very well in ensemble. Trumpets and horns were also symbolic of noble celebration, battles and hunting. An allegory for mourning was of trumpets hung up on a wall- i.e.: not being played*. To play unmuted trumpets or horns at any such occasion would have been as inappropriate as singing "Pinball Wizard" at a state funeral nowadays.
Patryk Frankowski (Department of Musical Instruments, National Museum, Poznan, Poland), suggested that the appropriate instrument for the lituus parts in BWV 118 was the trombita - a traditional long, straight wooden "horn" that is still played at funerals today in Poland, CZ, Romania and Ukraine, similar to the German fränkischen Langhorn and Swedish Nevelur (the Swedes occupied Leipzig c.1630-1650). Such instruments have been played throughout Europe for a very long time (just look at the ceiling above the altar in the Martinikerk, 1480) and, like the cornetto and trombones in the 1.Fassung (1736/7), are associated with death and mourning.
While research to find a definite answer to this musicological riddle continues, we are also working "backwards", from an idea of how it might have sounded. The instruments you hear today are "work in progress" - a new experimental design, based on measurements from examples listed above.

*With one exception, of course. Trumpets and tympani were played occasionally at important funerals but were muted - the trumpets with wooden sordini, making them very quiet and the tympani were covered with a black cloth. The Graupner cantata you heard in March features this rare effect. It would have been the only way to include natural brass between the beginning of Lent and Easter Sunday. There are no trumpet or horn parts in Bach's Passions or other Trauermusik, for instance. Yes, we did also try BWV118 with muted trumpets and they really do not blend.

Mike Diprose
March 2010




Nederlandse samenvatting

Welkom! Wij moedigen ons publiek aan om onbevangen te luisteren. Dat is dit seizoen makkelijk met premieres - muziek die u zéker nooit eerder gehoord heeft- en stukken die u wellicht wél kent, maar geheel nieuw zullen klinken. Over waarom wij doen wat wij doen kunt u meer lezen opdeze website. In de concerten van Maart hoorde u zéér "nieuwe klanken"...
J.S. Bach's Trauermotet O Jesu Christ, meins Lebens Licht, (BWV 118) wordt omgeven door veel mysteries. Tot op heden zijn alleen de compositiepartituur van beide versies gevonden - de eerste versie met een watermerk van 1736/37; de tweede van rond 1740. Er is geen handschrift van een uitvoeringspartituur, noch van de partijen. In beide versies staat lituus I & lituus II voorgeschreven.
De lituuspartijen in BWV 118 kunnen op "natuurinstrumenten" -slechts met tonen uit de harmonische boventoonreeks- gespeeld worden, maar lijken in karakter niet op koperblaas-partijen: in plaats van de gebruikelijke korte, explosieve fragmenten zijn er lange, lyrische frases die, als ze op hoorns of trompetten gespeeld worden, niet goed in het ensemble mengen. Trompetten en hoorns waren bovendien symbolisch verbonden met adelijke feestelijkheden, veldslagen en jachtpartijen. Trompetten werden aan de muur gehangen als teken van rouw, er werd dus niet op gespeeld*. Het zou zeer ongepast zijn geweest om een ongedempte trompet of hoorn tijdens zo'n gelegenheid te bespelen.
Patryk Frankowski (Department of Musical Instruments, National Museum, Poznan, Poland) opperde dat het geschikte instrument voor de lituus-partijen in BWV118 de trombita zou zijn - een traditionele lange, rechte houten hoorn die tegenwoordig nog steeds gespeeld wordt op begrafenissen in Polen, Tsjechoslowakije, Romenië en de Oekraine, vergelijkbaar met de Duitse fränkischen Langhorn en zweedse Nevelur (de Zweden bezetten Leipzig tussen 1630 - 1650). Dit soort instrumenten is eeuwenlang in heel Europa bespeeld (kijk bijvoorbeeld naar de plafondschilderingen achter in de Martinikerk in Groningen) en is, net als de in de eerste versie van BWV 118 voorgeschreven cornetto en trombones (1736/7), symbolisch verbonden met dood en rouwen.
Terwijl het onderzoek naar een definitef antwoord op dit musicologisch raadsel wordt voortgezet, zoeken wij onderstussen naar hoe het instrument geklonken zou kunnen hebben. De instrumenten die u in Maart hoorde zijn gemaakt volgens een nieuw experimenteel ontwerp, gebaseerd op de afmetingen van de hierboven genoemde instrumenten.

*Met één uitzondering. Trompetten en pauken werden soms op belangrijke begrafenissen gespeeld, maar werden dan gedempt- de trompetten met houten sordini, waardoor ze heel zacht klinken en de pauken werden bedekt met een zwarte lap. In de cantate van Chr. Graupner van vandaag kunt u dit zeldzame effect horen. Het was de enige manier om natuur-koperblaasinstrumenten tussen aswoensdag en Paaszondag te laten spelen. Er zitten bijvoorbeeld geen trompet- of hoornpartijen in Bach's Passies of andere Trauermusik. Ja, we probeerden BWV118 ook te spelen met gedempte trompetten en ze mengen écht niet in de klank.