HIP hip
October 2010

Welcome! Some listeners have asked why we often use a harpsichord and not an organ when performing church music. There is a large church organ above us, with a balcony big enough for the ensemble, so why do we not play from there?

Many of you will already know that know our aim in Historically Informed Performance (HIP) is to be as historic as possible; sometimes we'd rather perform without an organ (as was done) than with one of a type that either did not exist at the time or wasn't really used for what we do.

The music we play is from the early 1700s; the organ above us is a Bätz/ Witte organ from 1886. It is pitched differently from our instruments (we would need to re-design our woodwind section to play with it) and hails from a time when organs were no longer used in ensemble. It is therefore unsuitable for our needs. This is quite common and has understandably led to the invention of small, electrically-pumped, portable chamber organs for continuo. Non-"built-in" organs were extremely rare in the 17th & 18th centuries, hand-pumped, larger, less portable and used for works requiring several "choirs".

There are obvious visual and acoustic differences between church and chamber organs: The diminutive size of most modern chamber organs allows an organist to be in the middle of an ensemble and even conduct over it; an unnatural position that unnecessarily swamps other performers in sound but does not project well into the audience. From a church organ, it is very difficult to direct an ensemble; both visually, because the player faces a wall of pipes; and aurally, because the sound leaves the pipes away from the ensemble, whose bass continuo instruments the organist must therefore follow. The sounds first mix in the ceiling of the church. Bach was a virtuoso organist but this could be why he and other composers preferred to direct from the viola, violin or harpsichord.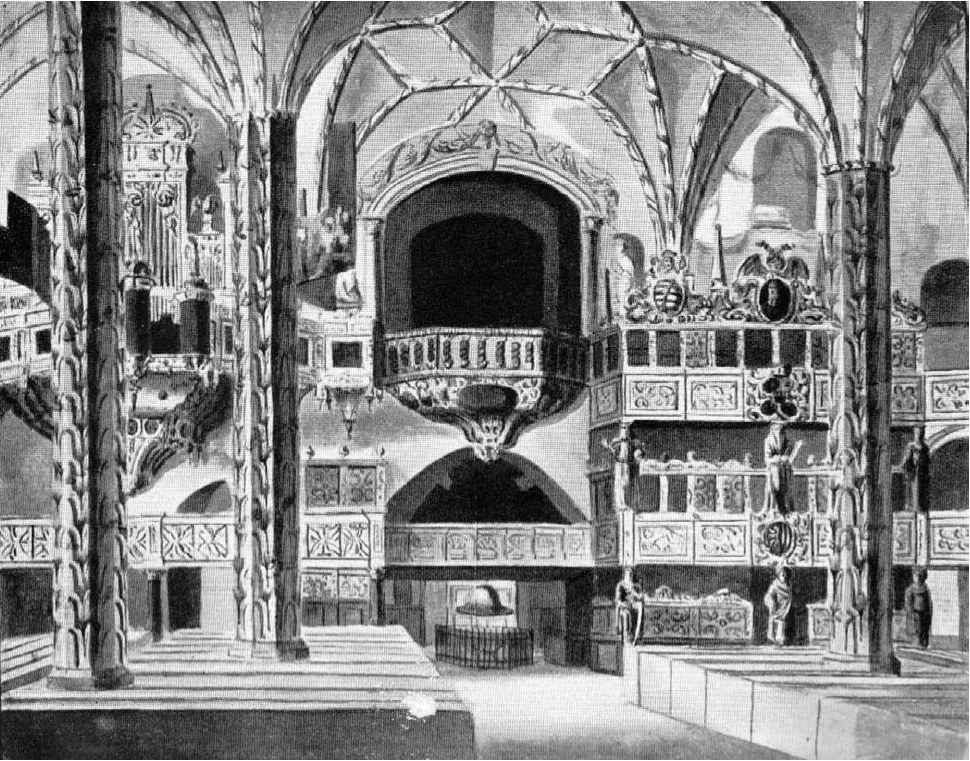 Organ in Nicolaïkirche. " ...This is the choir and orchestra loft which has one great disadvantage: the large church organ is located on the left facing a side nave or aisle and makes communication between the performers and the organist rather difficult. ..."


This is said not to deny the importance of the organ and the incredible human achievement of its design and construction but sensitivity of use can sometimes be overlooked. The obbligato organ part in BWV 169 is a rare, written-out example of such: The organ weaves through its accompaniment, enriching textures and complementing harmonies without dwelling long enough on any one note to interfere.

De Swaen performed for several years in the loft with the Weidtman organ (1750) at the Evangelisch Lutherse Kerk in Hilversum. The organ you hear today was built after historical examples by Paul Kobald, who also chose today's programme, and is as near as we have got, so far, to a suitable, "on stage" compromise.

We hope that you appreciate how much goes into our preparation; we certainly appreciate your support. Please, if you can, donate a minimum of 10 euros after this concert. You can also discover many other interesting, fun ways to give us your money, such as sponsorship and "adopting" a member.

This concert, we re-perform Durch Kahle Birken by Silvan Loher. De Swaen commissioned this piece last season as one of our premieres and it was subsequently voted the overall winner in April's audience poll.

Mike Diprose
October 2010