HIP hip
September 2009

"And now for something completely different."
Monty Python.



Hello and welcome back to our brand new season of, Da Da Daaa, "Premieres", during which, alongside Bach Cantatas, you will hear works that are either being performed for the first time in over 250 years, or have been newly written for De Swaen.

Just as musicians in the 18th century played recently-made instruments, the music they played was usually also newly-written. Ever-changing musical fashions kept composers busy writing works that were performed maybe only once or a handful of times - far from the repetition of today's cannonism. JS Bach's music, for instance, was already considered "old fashioned" by the time he had moved to Leipzig in 1723. Thank goodness it didn't stop him!
In HIP (Historically Informed Performance), however much we lovingly try to recreate these sounds using evidence from the time, we have to accept that now, it's not then, it's now! There is no way of knowing if we really have got it right (but that's not going to stop us doing what we love). Audiences have changed too - It would be difficult to arrange playing to the ears of an 18th century audience.

We are very glad that you decide to come to our concerts. This series, we offer something extra: not only the thrill of a live performance but also the chance to experience something you have definitely never heard before.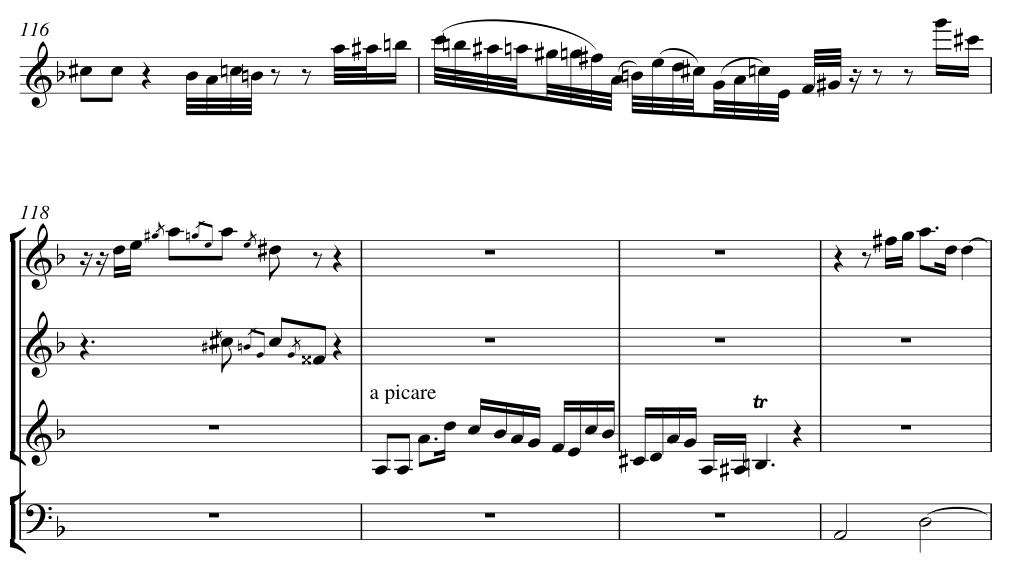 An advantage of performing works by living composers is that they can be present in rehearsals to communicate their wishes directly. In return, we have set the composers certain conditions for their pieces so that they complement our programmes and are relatively quick to prepare, making further performances by other ensembles a practical possibility. The rest is up to them.
We have requested the following: That the new work be based on a chorale tune from the relevant time in the liturgical calendar; that the composer writes the piece in a week- a normal time frame in the 18th century; that we can prepare the piece from sight to concert platform (without conductor) after less than six hours' rehearsal; that the composer considers using such elements of 18th century music as: microtonal/resonant tuning, folk music, dance forms, improvisation and rhetorical affects.
Affects are musical figures that persuade listeners towards feeling certain emotions. As we all know, emotions are not always pleasant. Affects are a staple of Rhetorical (pre-Romantic) music, exploited by instrumentalists and used to emphasise the meaning of vocal texts.

First up, an ex-pulveris cantata by J.S. Bach's colleague, Ch. Graupner and something from the still-dripping pen of the enigmatic Des McNutty. We know he wrote this piece in a week because we only asked him two weeks ago and the score arrived last Saturday.

Remember: You heard it here first.

Mike Diprose
September 2009




Nederlandse samenvatting

Musici in de 18e eeuw speelden op nieuw gemaakte instrumenten en de muziek die ze uitvoerden was ook nieuw geschreven.
Hoezeer wij in HIP (Historically Informed Performance) ook proberen de klanken van toen zo getrouw mogelijk te reconstrueren -gebruik makend van bewijzen uit die tijd, we moeten accepteren dat we nooit écht kunnen weten hoe de muziek tóen eacute;cht geklonken heeft. (Wat ons er echter niet van weerhoudt te blijven zoeken.)
Het programmeren van muziek van levende componisten heeft als voordeel dat de componisten bij de repetities aanwezig kunnen zijn en kunnen zeggen hoe zij willen dat hun muziek wordt uitgevoerd. Wij hebben de componisten echter ook "opdrachten" gegeven, zodat de nieuwe stukken goed binnen het hele programma zullen passen: het nieuwe werk moet gebaseerd zijn op een choral melodie die hoort in de tijd van het liturgisch jaar, het moet in een week geschreven worden - de tijd die een cantor in de 18e eeuw had voor een nieuwe compositie, we moeten het nieuwe stuk in minder dan 6 uur repetitie (zonder dirigent) kunnen instuderen, de componist moet 18e-eeuwse elementen toepassen, zoals: microtonale/resonante stemming, volksmuziek, dansvormen, improvisatie en rhetorische affecten. (Affecten zijn figuren die bepaalde emoties illustreren. Prettige én minder prettige emoties.)

De PREMIERES van september 2009 waren: een uit het stof gehaalde cantate van J.S. Bach's collega Ch. Graupner en een nieuw werk van Des McNutty, waarvan de inkt nog nat is. We weten zeker dat dit stuk in één week geschreven is, want we gaven Des de opdracht twee weken voor het concert en we kregen de partituur 5 dagen voor de eerste repetitie.....