Silvan Loher
Silvan Loher was born 1986 in Schaffhausen, Switzerland, where he also began his musical training. By the age of 12, he was teaching himself composition. Many of his works were performed while he was still at school(among others, a stage music to "Hamlet" and a full-length chamber opera in 2004) and he soon became featured on Swiss radio and television. More recently, his pieces have been played in Switzerland, Germany and Scandinavia.

In 2006, Silvan started his formal education in composition with Georg Friedrich Haas at the Hochschule für Musik, Basel. He graduated in July 2009 and is now on the Master's programme with Jakob Ullmann. During his studies, he has mainly concentrated on chamber and vocal music and intensively researched his passions: the music of Johannes Brahms, Edvard Grieg and Franco-Flemish Renaissance polyphony.

Musicians from many fields that perform Silvan's music often then ask him to write new compositions especially for them. His interest in "older" music and rarely-played instruments has also led to intensive collaborations with interpreters of Early Music at the Schola Cantorum Basiliensis and several commissions. For De Swaen, he wrote Durch Kahle Birken, for solo soprano, alto and bass singers, flute, oboe d'amore, oboe di selva, bassoon, two violins, two violas, cello and contrabass, based on poems by Georg Trakl (1887 - 1914) and the chorale the chorale, "Durch Adams fall ist ganz "verderbt".
This piece was first perfomed in January 2010 and won most votes for vocal pieces in De Swaen' audience poll. We reperfom it 31st October 2010.
Click HERE to listen to a fragment of Silvan's Clarinet quintett, performed by Ensemble Phoenix Basel.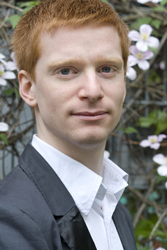 Click photo to visit Silvan's website.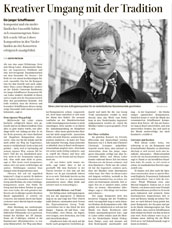 Click on image for pdf of interview with Silvan about his composition for De Swaen.